One of the new feature of
Windows 8
is its Metro Style start Page. It is very beautiful and innovative. We try to make our web browser look beautiful and for this we install extensions and add-on.
Here I am going to tell you how you can make your browser homepage look like Windows 8 metro style. One is Chrome extension that works only on chrome but another one is a downloadable app file that works on every browser.
Its feature is much like the desktop version Windows 8. You can add your favorite sites in the tiles and access it just by clicking it. Here are two ways to make your browser look like Windows 8.
1. Eight Browser Start Page Plugin
This software or plugin is named as Eight Browser Start Page and is developed by
Ľubomír Krupa
.
It work in all browsers:
• Go to this
link
and download the zip file.
• Extract the file and open it.
• Open the file named
index
.
• Your selected browser will open. Now copy the URL and make it your Home Page. Each browser has different options to set home page. You can set according to your browser and since you have set it as home page every time when you open your browser you will get it.


2. Mysites App for Chrome
This app is available on
Chrome store
. By using this app you can make your Chrome home page look like Windows 8. You can see the screencast of the app below.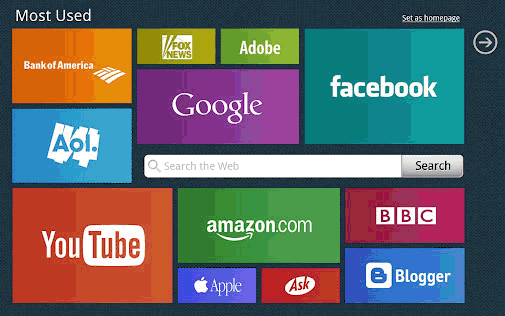 Just simply go to the Chrome store and install this app. You can also make it as your homepage by clicking the
Set as homepage
option. It will give Chrome speed dial and start page a new look.